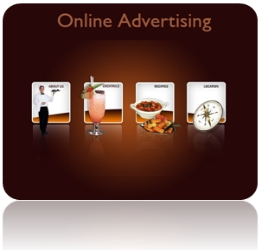 Online Advertising
When you get any online services from us, you automatically qualify for our FREE Monthly ONLINE Advertising programs with your own Advertising Desk. Unlike other service providers, that simply design a website for you, we are the Internet Specialists that will give you a Total Solution, INCLUDING ADVERTISING. Your site, business name, address, phone and other vital information is published in multiple national and local sites and specials you are offering will also be published into another natoronal and local directory and all partner directories to keep your customers comming. You have access to your own advertisking deak online!
Access to your own Advertising Desk.

Free Entry of your business into national, local and stores Business Sites, a $40 value per month.

Free Entry of your business into the Specials national and local online sites, a great way to get customes by offering discounted prices and specials. You can even rotate and adjust your specials, this is a $40 value per month.

Free Entry of any Video and Photography works into the advertising suppled by you.

That is a total of $80 per month FREE ADVERTISING with any online service or website from us!

Only

FREE with ANY online service with us or fixed monthly price for just the advertising program.
Online Advertising Signup
My business, store or website could use thousands of potential visitors! Just being listed in ONE of our sites will bring you thousands of potential visitors, but we will list your business internationally, nationally and locally. Proof verifable by Google. In fact, we get better results than advertising in most local newspapers. Sign up below.